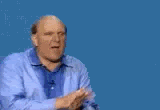 Maybe Steve Ballmer just didn't want to be the fattest sweatiest one anymore liked his looks?
"With a strong set of products and an exciting pipeline for the next year, Mark's experience and out-of-the-box thinking will help us more effectively reach new consumers and grow market share," Mr. Ballmer said in a statement.

Yeah, Mark.
Mark Penn.
The epitome of "out-of-the-box thinking."
---
[Added] See also.