Yes, scare quotes intentional.
In case you haven't already heard, Facebook is planning to allow app developers to access your address* and telephone number. This great new plan has been suspended (via) while Facebook reconsiders how it wants to go about doing this, but the suspension likely won't last more than a few weeks.
Salon and The Guardian have stories that ran before the suspension was announced.
Apparently, the original plan was going to "protect" your privacy using one of those pop-ups where you have to click to give permission: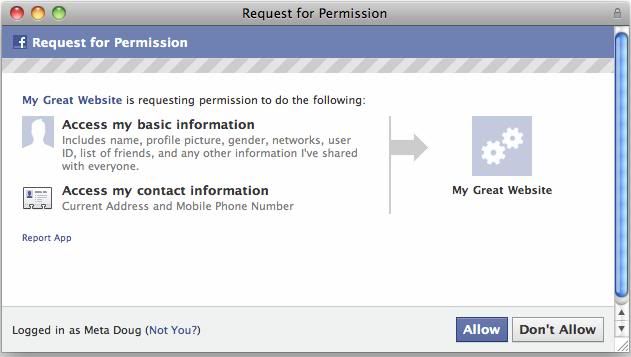 (embiggen)

Odds are, you're going to click that Allow button at some point, on purpose or by accident, so you may want to check to see if Facebook already knows your address and phone number, and if so, decide if you want to remove it.
You may not have this info stored in Facebook. It wasn't required at sign-up, at least for me, and in any case, it's not required that it stay there, if it is. To check, log into Facebook, click the Profile link in the toolbar running across the top of the page, and on your Profile page, click the Edit Profile button.

(embiggen)

On the next page, click the Contact Information link in the left-hand column.
(embiggen)

Make changes on the next page, if you like, and click the Save button at the bottom of the page if you do. You can just delete what's there, or, as Chris Miller suggests, put in something better, like the contact information for Facebook's customer service department. Assuming you don't know Mark Zuckerberg's cell number, I mean.
(h/t: KK, via email)
[Update 2011-01-18 22:38] See Comments for a link to Keith Olbermann's coverage of this latest news.
---
* If you're reading this, you budding curmudgeon after my own heart you, sorry. Yes, I could have said to have access to your, or for that matter, just access to, but I think using access as a verb is appropriate when talking about computers doing active things, such as a program grabbing information previously stored in a database. I notice you do not ban reference as a verb, BY THE WAY.