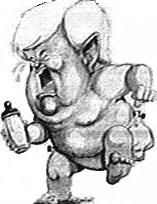 Probably you already heard about this, but just in case not:
The National Review Online called on Monday for Newt Gingrich to quit the Republican presidential contest and endorse Rick Santorum.

The editors of the conservative magazine said it would be a mistake for Republican voters to nominate someone with "such poor judgment and persistent unpopularity" to be the party's standard bearer.
But wait. That's not the weird part. Here's the weird part:
"On his own arguments the proper course for him now is to endorse Santorum and exit," the editors wrote.
Endorse Santorum? What about "poor judgment" and "persistent unpopularity?" On the NRO's editors' own arguments …