The hot new hashtags on the Twitter are #telepalmer and #palinhand. This appears to be due to St. Sarah the Commonsense Conservative and Savior of RealAmerica being busted for having notes written on her palm during the totally not scripted part of her Q&A at the Teabaggers' Ball.
To be clear, these were not exactly the sort of concepts you'd think would be that hard for someone being paid $100,000 to give a policy speech to memorize; e.g., "We have got to jump start these energy projects that we have heard so much about."
She actually explicitly wrote "Lift American Spirits." Wow.
RisingHegemon calls it the Triggmata.
One thing's for sure: there will be no stopping the libtards and their snark.
__________
Moar ...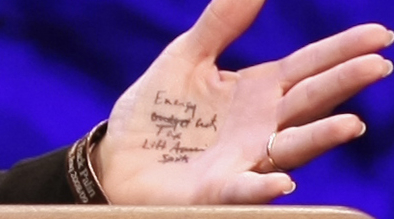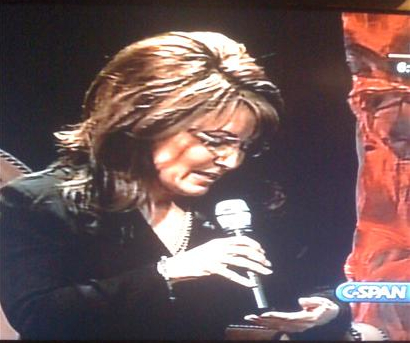 More pix and vids documenting this at the Stefan Sirucek post (same link as above).
__________
• Too bad #telepalmter didn't catch on quite as well. That's even funnier.
• TMZ headline: "Sarah Palin's Hand Gets Job Done."
• The Sunday spin shift at Wingnut Command Central is pathetically not up to the job, but at least we can now be sure that Stephen Spruiell rhymes with tool.
• TBogg also too has an Oh, my. His connection to Ol' Starbursts is FTW.
• And Blingees? Of course there will be Blingees!